Snoozie
Catch up before their day ends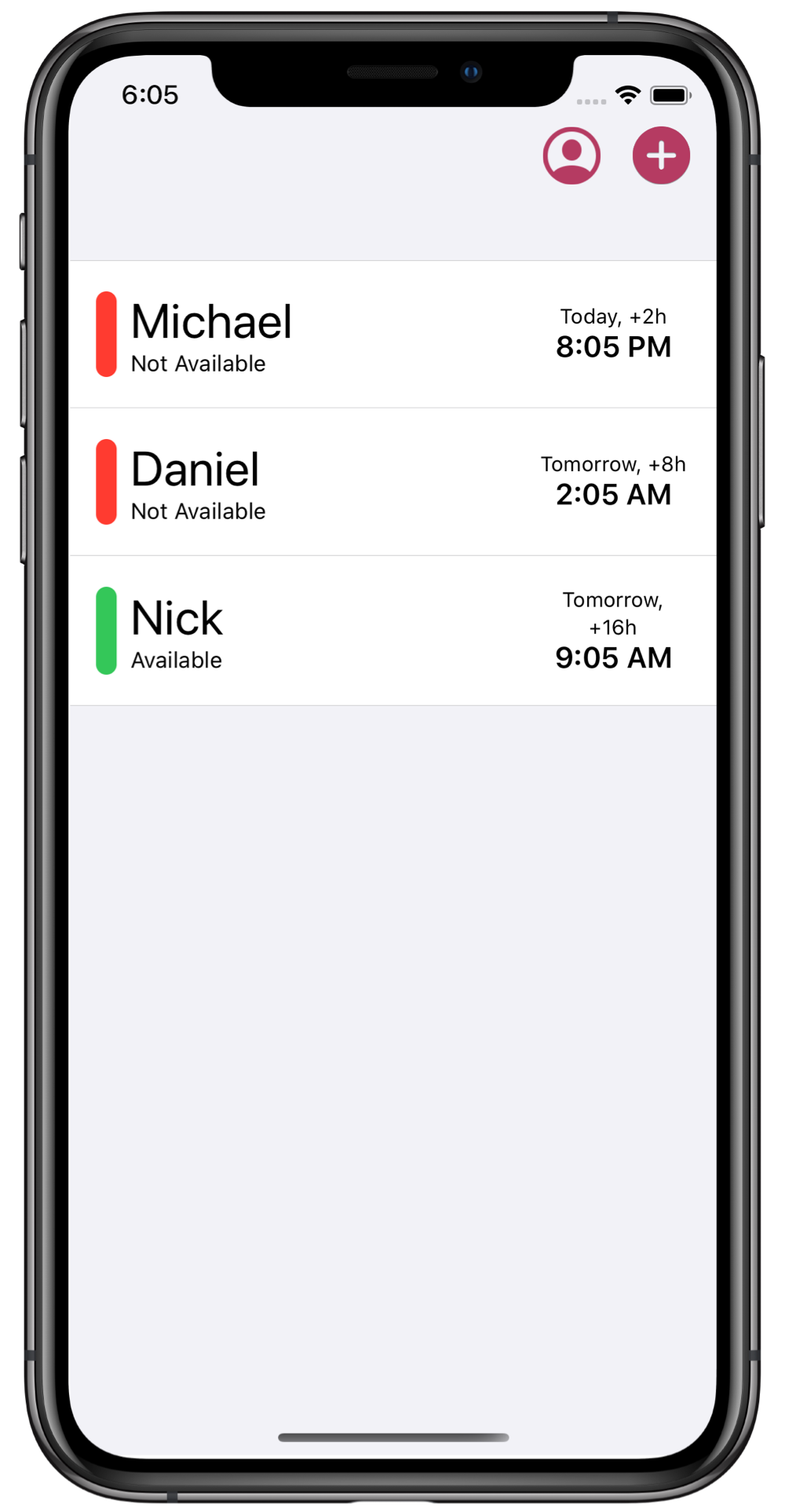 Have you ever tried to reach someone in a different timezone just to realize it's too late on their end?
With Snoozie, you'll never ever forget to catch up again. Add your contacts and their location and get a reminder before their day ends.
Doesn't matter if you work in a distributed team across the globe or are on vacation in a foreign country. Snoozie takes the stress out of calculating time differences. Add your contacts once and let it do its magic.
Support
If you encounter any issues or feel something is missing, please don't hesitate to reach out. I promise, you'll get a personal response back!
Privacy Policy
We take your privacy serious. You own your data and we don't even have access to it. See our policies outlined below for details.
We use Apple CloudKit to store your data when iCloud is enabled and available on your device. We're using private containers wherever possible, and only you have access to this data. We do not maintain servers or store any private data on our servers. If you choose to invite others or choose to share data, the data will reside within Apple CloudKit and will only be accessible to parties you allow access to.
We generally do not ask you for personal information unless required.
We don't share your data with anyone except to comply with the law, develop our products, or protect our rights.
We don't store personal information on our servers unless required for the on-going operation of one of our services.
We use Google Analytics / Google Firebase to anonymously track activities to improve the product unless you opt-out in the App Settings.
If you allow it, Apple will share crash reports and other anonymous usage data.
Exclusions
This privacy policy does not apply to any unsolicited information you provide to us, such as feature requests and feedback sent via our support channels. All unsolicited information shall be deemed to be non-confidential and we shall be free to reproduce, use, disclose, and distribute such unsolicited information to others without limitation or attribution.
Disclaimer
While we continue to work hard to protect your data, no transmission over the Internet can be guaranteed to be absolutely secure, and we cannot ensure or warrant the security of any information you transmit to Alt Interactive LLC. Transmitting personal information is done at your own risk.
Privacy Policy Changes
If Alt Interactive LLC makes changes to any terms or conditions of this privacy policy, these changes will be posted on the site in a timely manner. We reserve the right to modify this privacy policy at any time, so please review it frequently. In case of a business transaction in which a portion or all of Alt Interactive LLC's business is acquired, we will notify you.
Terms of Service
See our Terms of Service
Public Beta
If you'd like to help me test new features, please join the public beta here: Snoozie Public Beta
I appreciate all feedback you submit and am always listening to features you're missing. I'm building this tool for my users, so your feedback will be heard!